Programs to experience Japanese culture
1. Japanese home cooking (free of charge) @ Furumaya House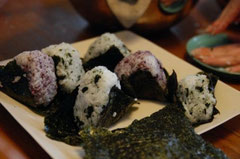 Love Japanese food but not familiar with how it is prepared? If you are interested in learning Japanese home cuisine, you will have a chance to do so at Furumaya House.  Let us know in advance what dishes you would like to learn, then dinner menu will be arranged upon your request for you to join and prepare a few dishes together.
Instruction will be only in English for now, but this program is free of charge for all the guests at Furumaya House.
2. Tea ceremony (1-1.5 hours, 4,500 yen/person) @ Ryokusuian Cafe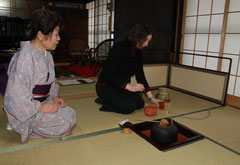 For those Interested in taking a quick lesson of Japanese tea ceremony and learning its spirit, this is the program for you. In this short program, you can gain basic knowledge of the tea ceremony, i.e. history, tools, meaning of each movement, and most importantly, what it means to serve tea to guests. You can also try to make tea yourself and enjoy Japanese confectionary.  
*The price includes tea, Japanese sweet, and translation service. Observers will also be charged in full price.
*If you only like to enjoy tea and sweet in tea ceremony style, it is available for 1,200 yen/person.